Who are we?
In 2015 the Seib family purchased Bethel Bicycle. With a passion around anything on two wheels, we not only build, service and sell bikes, but we ride and race them as well. Our premise is simple, a bike shop without attitude where everyone, regardless of age, gender, or experience feels as if they are hanging with friends. The world of retail is changing rapidly and at BMB we are changing with it. We understand that you can buy products and bikes on-line and we won't hold that against you. If you need help or service with on-line purchases don't hesitate to stop in. Our goal with every customer interaction, it to provide the most friendly and inviting experience in the industry. We are passionate around cycling and the karma it creates, stop in and experience the difference at BMB.
Store Hours:
Monday: Closed
Tuesday: 10:30-5:00
Wednesday: 10:30-5:00
Thursday: 10:30-5:00
Friday: 10:30-6:00
Saturday: 10:00-5:00
Sunday: Closed
_________________________________________________________________________________________________________________________
Barker Mountain Bikes, the Bethel Village Trails, and the Bethel Inn team up to bring you:
SNOWMAGGEDON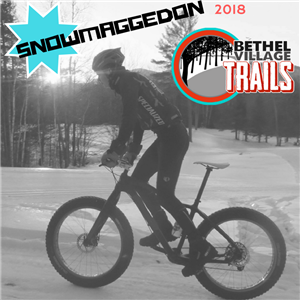 From the Bethel Village Trails: "Dear Racers, Since we started Bethel Village Trails one year ago, we've kept looking for more ways to expand, meet new people, and have fun. So we figured we'd meet all those criteria at once during this new and awesome race called Snowmaggedon. We're psyched to partner with Barker Mountain Bikes, who have just gobs of experience with everything cycling, and The Bethel Inn Resort, who specialize in pampering their guests and have given us an amazing lodging deals to pass on to our racers.
The Course:
Two lengths/times are offered: Short course will take about one hour, and will be roughly between 6-8 miles. Long course will take about two hours and will be roughly between 12-16 miles. Note: mileage and course will be dependent on conditions. We want to put on a great race, and will do everything we can to make that happen. No one wants a slogfest, so choose your preferred time, rather than distance. Don't want to ride more than an hour? No problem! Choose the short course. Two hours sound about right? The long course is for you. We have a fantastic new singletrack fat bike system that crosses Nordic trails from time to time. The course will be planned around these trails but may include the wide Nordic trails as well. Everything is subject to change due to conditions. Will continue to update.
Post-Race Festivities:
You don't want to miss this. The Bethel Inn has planned a great lasagna fest for you in their Millbrook Tavern. Your registration fee includes: hot drinks anytime after 10:30am; buffet with lasagna (veggie, meat, and GF options available), salad, soup, bread, and a beer. Outdoor firepits will be going... s'mores anyone? Awards thanks to Barker Mountain Bikes! Stay until 3pm and it'll be Happy Hour...$2 beers and 1/2 price apps! Live music at 7pm. Stay the night and we'll have a fun group ride in the morning. Breakfast included in your Bethel Inn package (and don't forget the heated outdoor pool and sauna)! Or stay Friday night for Happy Hour, music, and a great breakfast before the race...or both nights! To reserve, call (800) 654-0125 and mention "Fat Tire" to receive your discount."